Welcome to the DS item store!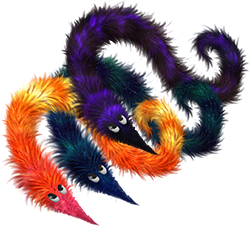 Wo'a - 2021 Anniversary Special Companion
SKU 00043
Product Details
Odd, feathery creatures known to tuck themselves gently around the necks of Stryx like scarves.

Bonus as a companion: +1 AP to their assigned stryx in all art or literature of the stryx it is equipped to. Additional +1 AP to their assigned stryx for any piece where the biorhythm matches the Wo'a's type and their assigned stryx is depicted. Stacks with other AP bonus companions. This bonus only applies to art/lit counted after the date the Wo'a was equipped.

Please note: Unlike other companions, Wo'a companions are non-transferable. They're one time use companions only. Once they're equipped they can not be transferred to any other Stryx. If they're removed, or switched out with another companion, the Wo'a is gone forever.
Save this product for later